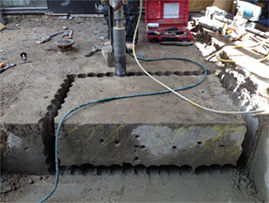 Diamond Core Drilling
Concrete diamond drilling is one of the most  effective and fastest methods of core drilling  wherein operators use top-notch diamond drill bits  to  create holes and openings with meticulous  details.
Diamond drill bits are considered the best tools for  creating clean and precise holes on an array of  materials such as metal, concrete, glass and brick.  Concrete diamond drilling is a perfect way of  creating holes on concrete structures and other  materials with diameters between 8mm to15mm.
Benefits of Diamond Drilling 
One of the biggest advantages of diamond  drilling is that it's a dust and vibration free  technique of creating error-free holes and  openings on a  wide range of materials
It's one of the fastest techniques of drilling  clear-cut holes and making accurate openings on  any material while maintaining structural  integrity
It allows diamond drilling operators to work  in confined spaces with ease
Since no dust is produced while making holes  and openings there is absolutely no health risk  for the operators
Since diamond is the hardest material in the  world, it makes it easier for operators to create  precise holes without putting too many efforts
It allows the operators to drill holes on both  horizontal and vertical structures between  8mm to 1500mm diameters